Brian Forsythe, M.D.
Orthopedic Surgeon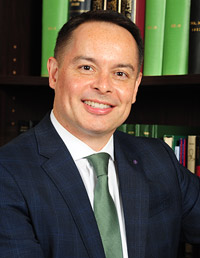 Brian Forsythe, M.D.
Dr. Forsythe is a board certified Orthopedic Surgeon, specializing in minimally invasive techniques in sports medicine, arthroscopic shoulder, knee and elbow surgery, as well as shoulder replacement surgery. His patient care philosophy centers on communication and accessibility. He believes that patients come first in the patient-doctor relationship, and that clinical problem solving begins with careful listening, observation, and examination. Ultimately, the goal is to return patients and athletes to the highest levels of activity and competition through specialized treatments or surgery.
His practice includes arthroscopic shoulder instability, rotator cuff repair, and shoulder replacement surgery. He also focuses on knee ligament reconstruction (ACL/PCL), patellofemoral realignment, resurfacing, cartilage repair, and proximal hamstring tendon surgery. Dr. Forsythe is actively involved in clinical application and investigation of Orthobiologics, including Stem cells and PRP (Platelet Rich Plasma).
After graduating from medical school at the University of Pennsylvania, Dr. Forsythe pursued his surgical training at the Harvard Combined Orthopedic Surgical Residency Program. He then completed subspecialty training in Shoulder and Sports Medicine Surgery at the world-renowned University of Pittsburgh Medical Center, Center for Sports Medicine. Dr. Forsythe has since been actively involved in education and surgical training of surgical residents, fellows, and practicing orthopedic surgeons.
Dr. Forsythe is currently Head Orthopedic Officer for the Chicago Fire FC, MLS, and he currently serves as the President of the Professional Soccer Physician Society (PSPS). In addition, he is a team physician for the Chicago White Sox (MLB), and Chicago Bulls (NBA). He has also been a team physician for U.S. Soccer, which involves international competitions and travel. His former team coverage includes the Pittsburgh Steelers (NFL), Chicago Bears training camp, Pittsburgh Penguins (NHL) and the New England Revolution Soccer (MLS). He has provided game coverage for numerous high schools and universities.
In addition to his clinical interests, Dr. Forsythe is actively involved with numerous research activities. He is an Associate Professor of Orthopedic Surgery at RUSH, and he has authored hundreds of scientific publications, book chapters, and abstracts. Furthermore, his work has been presented at national and international meetings. He was most recently the recipient of the Richard O'Connor Research award for Best Paper at the AANA/AOSSM Combined meeting in 2021, entitled 'Biological Augmentation with Mesenchymal Stem Cells in Anterior Cruciate Ligament Reconstruction.' He serves as a reviewer for the American Journal of Sports Medicine and the Orthopedic Journal, Arthroscopy.
Dr. Forsythe's athletic interests have helped define his career goals. He played Division 1 soccer at Brown University and he still enjoys playing, when not spending time with his wife and family.
Practice Emphasis
Medical School
University of Pennsylvania
Residency
Harvard Combined Orthopedic Surgical Residency Program
Fellowship
University of Pittsburgh Medical Center, Center for Sports Medicine
Special Procedures
Arthroscopic Shoulder Instability
Knee Ligament (ACL/PCL) Reconstruction
Patellofemoral Realignment & Resurfacing
Cartilage Repair and Transplant Surgery
Meniscal Transplants, Osteotomies and Joint Preserving Surgery
Proximal hamstring tendon repair
Orthobiologics: Stem Cells and PRP (Platelet Rich Plasma)