Sincer K. Jacob, MMS, PA-C, RRT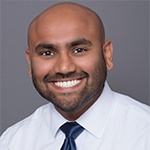 "Sincer joined Dr. Brian Forsythe's team in November of 2015 from the University of Chicago where he specialized in Cardiothoracic Surgery and Lung Transplantation. Now as a member of the sports medicine team he assists Dr. Brian Forsythe in seeing patients within the clinic setting and providing surgical assistance in the operating room. He aids in formulating diagnoses, and treatment plans. He also provides patients with preoperative and postoperative education.
In addition to his clinical and surgical responsibilities, Sincer is involved in providing lectures for medical education in the fields of cardiopulmonary medicine and sports medicine. He is also involved in research. Sincer provides sports medicine coverage and his experience allows him to assist in returning patients and athletes to their highest level of activity and competition.
Sincer was born in Chicago, but grew up in Cincinnati, Ohio. He is married to his wife Tara, and he loves their English Bulldog, Hulk."
Clinical Responsibilities:
Obtains medical histories
Performs physical examinations
Orders and interprets laboratory tests and imaging studies
Formulates diagnoses and treatment plans
Administers injections
Performs musculoskeletal ultrasound
Provides surgical assistance in the operating room
Performs surgical procedures and wound care checks
Provides preoperative and postoperative education
Triages patient phone calls and writes prescriptions
Education:
Northwestern University, Feinberg School of Medicine, Chicago, Illinois
Master of Medical Science, 2013
The Ohio State University, Columbus, Ohio
Bachelor of Science, Allied Medical Professionals, 2009
University of Cincinnati, Cincinnati, Ohio
Accelerated programs: Physics and Chemistry, 2006-2007
Professional Certifications and Licenses:
Certified Physician Assistant, NCCPA
Physician Assistant, Indiana and Illinois
Advanced Cardiac Life Support, AHA
Basic Cardiac Life Support, AHA
Registered Respiratory Therapist, NBRC
Professional Memberships:
American Academy of Physician Assistants
Illinois Academy of Physician Assistants
American Association for Respiratory Care
Sincer has office hours at the following locations: